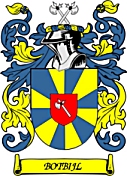 The Botbijl Name
No matter if you spell it Botbijl, Bodbijl, Botbyl, Bodbyl or Budbill, we are all descendants of Cornelis Botbijl.
Het maakt niet uit of je het spellen: Botbijl, Bodbijl, Botbyl, Bodbyl of Budbill, wij zijn allen afstammelingen van Cornelis Botbijl.
(born 1550 In Flanders)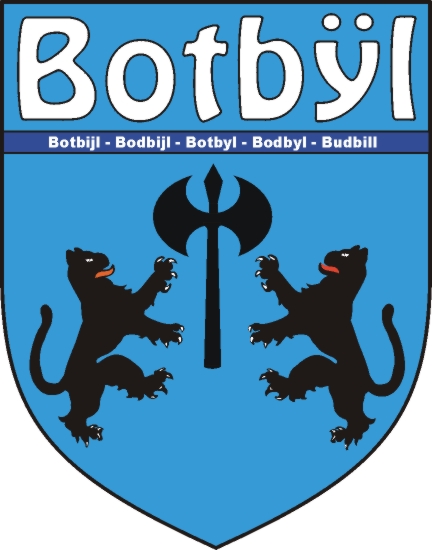 Note:The top COA is from a commercial firm, and the bottom one is by me. No historic one exists!
About My Genealogy Site
Yes, the update of this site is long overdue. I have been fighting with dial-up internet, business interests and a genealogy file with 76,500 persons that required a complete redo of the web site. I am also trying to learn more CSS and XHTML. Hopefully, most of the bugs are gone before you read this.
My Purpose: To find all my ancestors and all of their descendants and the families connected to them by marriage. Although my initial search was my paternal Botbijl line, I am also tracing Stap, Hamm, Tubergen, Haw, Bachmann, Pollack, and McGrouther lineage. There are a few stray individuals in my file but most of the 76,500 are connected by either blood or marriage.
About a year ago, I subscribed to Ancestory.com. This has given me easier access to U.S. census, military and social security information. The Zeeuws Archive in the Netherlands has the best online genealogy database. I tend to go off on tangents when I am on the site. If pre-1810 information was as readily available, I believe some interesting connections could be made.
This site will be under continual change but not at any set interval. I am experimenting with web page designs including cascading style sheets, PHP and XHTML. Opera, Firefox, Netscape and Explorer all work well with these pages and are either FREE or relatively cheap, consider doing an upgrade. 1024x768 or greater resolution preferred.
Disclaimers
This site may contain facts on living individuals that they would not prefer to have public but are available from other sources. Most birth, marriage and death records are available from some public record. By using The Next Generation software, I am able to block information on living individuals. If you have a problem with any facts presented here please email me. I am trying to build more family connectivity, not chase anyone away. I also realize that errors will abound. I consider myself a part-time family historian, not a genealogist.
The information here should be regarded like a road map. It will help you find much family information but you have to do some "driving" to get the exact facts and verification that you want. Please don't dwell on spellings. Many family names have several different spellings and I have found several individuals with three or more different spellings. I have also been chastised for insufficient sources. Much of my Netherlands information came the Zeeuws Archive and Genlias. Noting my source on each addition from these sources would have been very laborious and left less time to be a detective.
Please be a contributor, not a critic.